XS version 30 offers great new functions such as tasks, registration of contact entries, royalties payment runs with configurable reports, invoices entirely in any currency, automatic processing of invoice payments using CSV files, new customisation options, an improved administrator dashboard with quick find function for user accounts, an improved user dialog with new activity tab, uploading of model release documents (or other files), support for the Dreamstime API – and several fixes and improvements…
Please make sure to read the release notes with instructions that you'll find near the bottom of this page!
For an overview of changes since version 30 (currently 30.3) scroll to the bottom.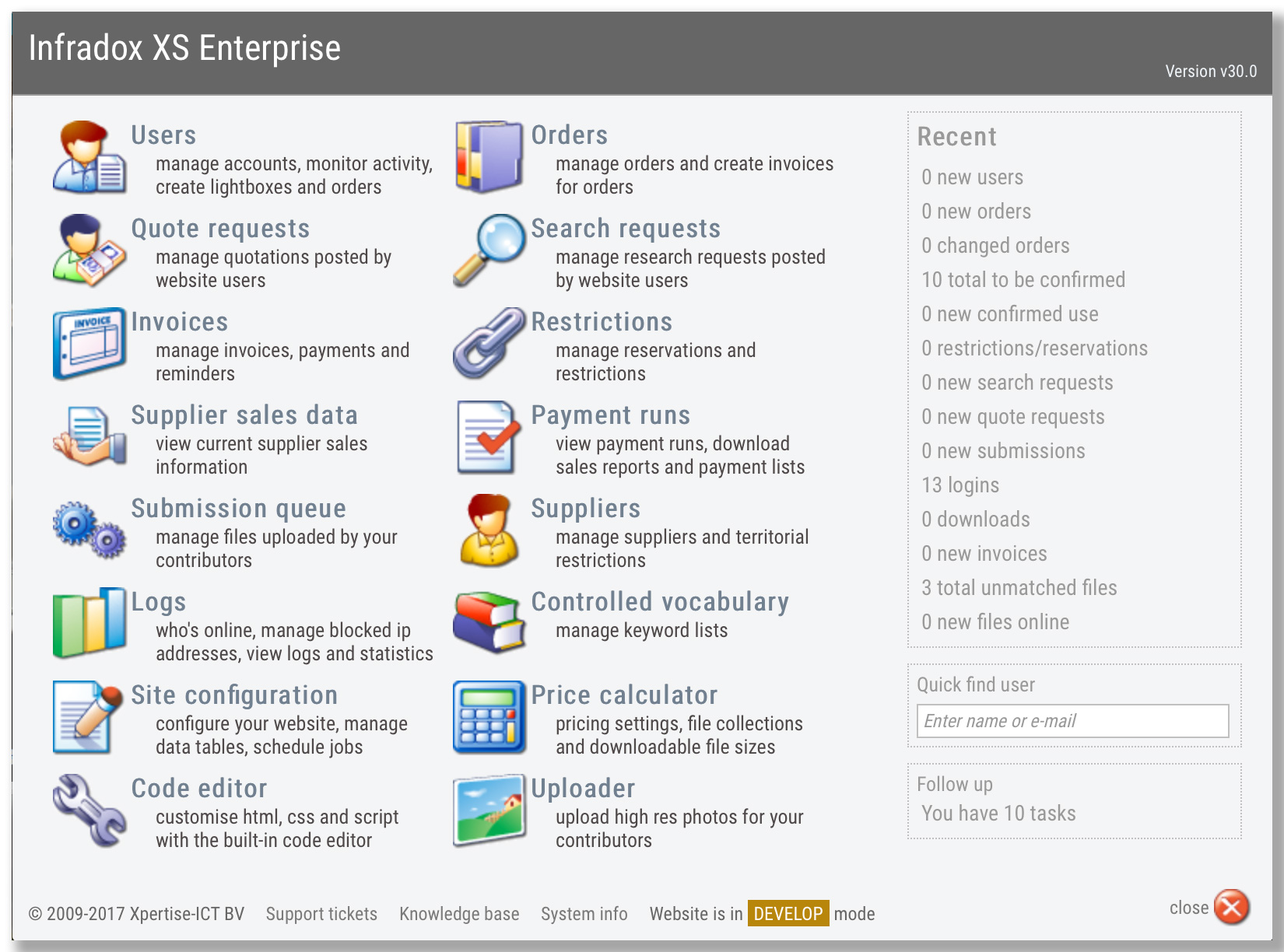 Changes in versions 30.1 up to 30.3
Fixed a problem with encrypted passwords that sometimes occurred when adding a new user from Back office, User management.
Added columns api file ref, object name and original file name to the csv details export that you can download from Back office, Payment runs.
Fixed problem with the search log which didn't include searches by guests.
Added a checkbox which lets you disable the browser's "leave page" check on the upload pages.
Added fields commissions, contact form, changeable properties, and statistics to the supplier group dialog so that these can be automatically applied to new suppliers in a group.
Added supplier VAT/Tax numbers to contributor export in Site configuration, Job server.
Added consolidated view (updated weekly) of most used search queries to Back office, Logs.
Added the number of new contributors to the daily and weekly statistics so that you can see how many of the new users registered as a contributor.
Added Apply buttons to the supplier group dialog so that you can update all suppliers in a group (i.e. royalties settings, new content settings, and contributor defaults.
Fixed a problem with the supplier dialog that prevented resetting the payment periodicity to 0 (zero).
Fixed a problem with the csv export of selected sales data in a supplier group in Back office, Supplier sales data.
The label for custom field 3 in Site configuration, Website forms, User account labels wasn't stored in the database, which has been fixed.
Added payment run type for "affiliate agents".
Added additional layout options to the payment run sales reports, and columns are now automatically removed if all fields for a column are unselected.
Fixed a caching related problem with the image type "illustration" filter.
The controlled vocabulary now supports multiple locales.
Added controlled vocabulary export and import functions to job server which lets you translate lists off-line.
Added automatic translation of terms by use of the controlled vocabulary to the "Metadata processing" function.