XS version 30 offers great new functions such as tasks, registration of contact entries, royalties payment runs with configurable reports, invoices entirely in any currency, automatic processing of invoice payments using CSV files, new customisation options, an improved administrator dashboard with quick find function for user accounts, an improved user dialog with new activity tab, uploading of model release documents (or other files), support for the Dreamstime API – and several fixes and improvements…
Please make sure to read the release notes with instructions that you'll find near the bottom of this page!
For an overview of changes since version 30 (currently 30.4) scroll to the bottom.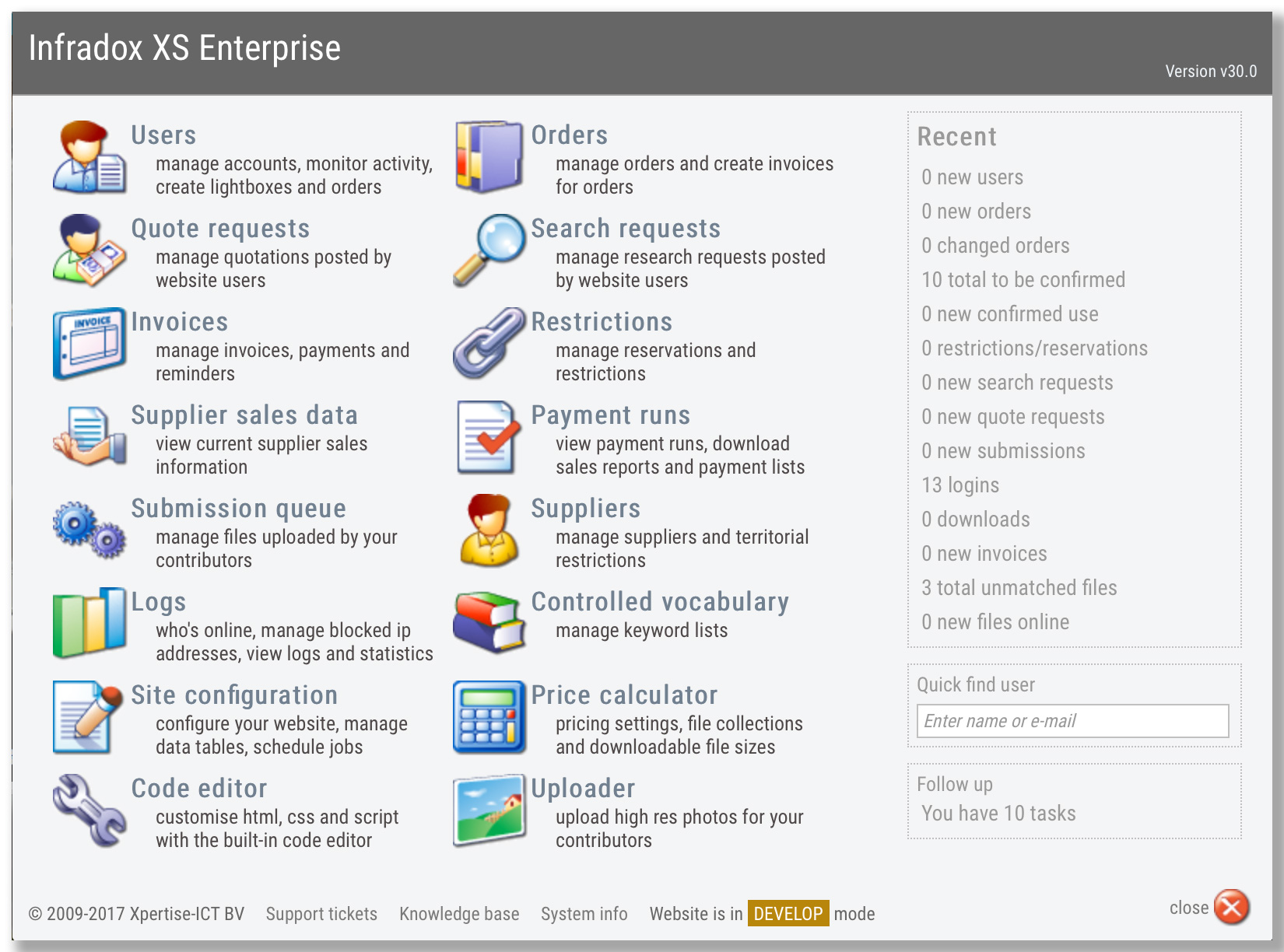 Changes in versions 30.1 up to 30.3
Fixed a problem with encrypted passwords that sometimes occurred when adding a new user from Back office, User management.
Added columns api file ref, object name and original file name to the csv details export that you can download from Back office, Payment runs.
Fixed problem with the search log which didn't include searches by guests.
Added a checkbox which lets you disable the browser's "leave page" check on the upload pages.
Added fields commissions, contact form, changeable properties, and statistics to the supplier group dialog so that these can be automatically applied to new suppliers in a group.
Added supplier VAT/Tax numbers to contributor export in Site configuration, Job server.
Added consolidated view (updated weekly) of most used search queries to Back office, Logs.
Added the number of new contributors to the daily and weekly statistics so that you can see how many of the new users registered as a contributor.
Added Apply buttons to the supplier group dialog so that you can update all suppliers in a group (i.e. royalties settings, new content settings, and contributor defaults.
Fixed a problem with the supplier dialog that prevented resetting the payment periodicity to 0 (zero).
Fixed a problem with the csv export of selected sales data in a supplier group in Back office, Supplier sales data.
The label for custom field 3 in Site configuration, Website forms, User account labels wasn't stored in the database, which has been fixed.
Added payment run type for "affiliate agents".
Added additional layout options to the payment run sales reports, and columns are now automatically removed if all fields for a column are unselected.
Fixed a caching related problem with the image type "illustration" filter.
The controlled vocabulary now supports multiple locales.
Added controlled vocabulary export and import functions to job server which lets you translate lists off-line.
Added automatic translation of terms by use of the controlled vocabulary to the "Metadata processing" function.
Changes in version 30.4
Optimised the Gallery manager which now loads faster and displays galleries faster, even if there are thousands of galleries.
You can now "sync" the settings of groups within the same gallery top level. I.e. you can configure all the settings on a single group and then apply those settings to all other sibling groups.
You can now apply different settings to all galleries in a group with the Gallery update dialog.
Added a new "Pinboard" function which lets you create 5 separate pinboards with galleries that you can use on custom pages. E.g. to control which gallery appears exactly where on your home page. To control what – and in which order – appears in gallery news feeds and so on.
The Set editor now lets you change gallery settings when you create or change a gallery. You can use the set editor to edit a gallery without having to open the Gallery manager.
A new setting was added that lets you use "static" galleries. These are galleries that are automatically prepared for faster loading every x-minutes. All gallery related functions automatically use this function if you enable it in back office.
We have added several new settings for galleries that are automatically created by the Gallery processing functions
You can now clone gallery processing rules which makes it much faster to create many rules
You can now clone gallery processing and metadata processing conditions for much faster creation of many rules
It is now possible to attach many files to a single restriction or reservation. More…
Fixed a problem with assigning file properties based on metadata processing rules.
Optimised the Agency payment run function.
Added "consolidated previews" to the log pages. This data will quickly show the most previewed files in a week or year. Its data is automatically updated once a week. You can change the order of display between previews by users, guests and api's or simply most to last.
Added sort option (total, users, guests, api's) to the consolidated search log.
You can now click any thumbnail on any of the log pages to immediately open the file properties dialog.
The metadata processing rules can now output results to a different field, either replacing it or appending the value. A separator is optional.
You can now create processing rules to strip html tags and entities, to remove hex and dec codes and to copy everything before or after a specific position.
Changed the length of field IBAN
Added BIC code to user and organization finance properties
Added configurable SEPA export file to supplier payments (for import in your banking software)
You can now change a supplier/contributor's royalties and tax settings on the finance tab of the user dialog as well (before you had to do this with the supplier dialog)
The sales reports now print the applicable tax label and percentage if you leave the label for the tax field in the report footer blank
You can now configure values in the metadata repository that are used to assign a priority to new uploads by photographers. For example, if the words "news" or "current affairs" are found in one of the fields. This allows you to filter new files by priority in the backoffice submission queue pages.
We have added the column "Date invoice paid" that you can enable on the contributor statistics page. This column will show the date that you received payment from your client
You can now enable an overview of payment runs on the contributor statistics pages. This overview includes download links so that photographers can download their payment / sales reports. You can change the labels for this list via Site configuration > Constants (filename is contrpaymentruns.txt)
You can add descriptions to each of the configured RF file collections, and these descriptions are now automatically copied to the order and invoice descriptions for RF files in orders.